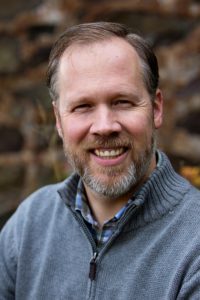 Great Things In Michigan
On October 28-29 we held the ACDA-MI Fall Conference at First United Methodist Church in Kalamazoo, Michigan.  We were honored to host Z. Randall Stroope (Oklahoma State University) and Carol Beynon (University of Western Ontario) as our conference headliners.  Dr. Stroope presented thoughtful interest sessions on a variety of subjects: Music and Memory, Practical Medicine for Pitch Irregularity, and a session on rehearsal arch from first rehearsal to performance.  Dr. Beynon presented a moving interest session titled, "Singing my way back to you: Reflecting on the singing and learning journeys of persons with Alzheimer's Disease, caregivers, high school singers and choral directors in an intergenerational choir."  The research that she presented was compelling, showing the real ways that singing in an intentional intergenerational choir can have meaningful impacts on singers in all stages of life.  More about this project on intergenerational singing can be found in this video.
The headliner choir at our conference was Primus:  Amabile Men's Choir under the direction of Carol Beynon and Mark Payne.  We were happy to have the men work as a demonstration choir for undergraduate conducting students in addition to their headliner concert on the Friday evening of the conference.  The men presented a varied concert with a number of selections by Canadian choral composers.  As a part of this concert the Maynard Klein Award was presented to Karen Nevins for distinguished service to choral music in Michigan.  Congratulations to Karen for her fine career in choral music and for her many years of service to ACDA-MI.
Another highlight of the fall conference was the final concert session that featured an honor choir made up of singers from community colleges throughout the state of Michigan.  We were thrilled to have more than 200 singers gather in the sanctuary to present a concert under the direction of Gabriela Hristova (University of Michigan-Flint).  Many thanks go to Stephen Barton for his vision to make this experience a reality.  I also want to thank the individual conductors who brought choirs to participate in this community college honor choir:  Grand Rapids Community College Concert Choir and Madrigal Singers (Stephen Barton), Kalamazoo Valley Community Chorus (Michelle Bauman), Lansing Community College Singers (Kelly Stuible-Clark), Macomb Community College Chorale (Stuart Scott), Muskegon Community College Singers (Thomas Clark), Mott Community College (Matthew Packer), Northwestern Michigan College Chamber Singers (Jeff Cobb), Southwestern Michigan College Select Voices (David Carew).
The conference also included interest sessions presented by Thomas Blue (Junior High/Middle School R&R Chair) and Greg Jasperse (Vocal Jazz R&R Chair).  Other sessions included a student interest session on job interviews, a multi-repertoire reading session and two conducting masterclasses (undergraduate and graduate).  Congratulations to the performing choirs at the conference:  Berrien Springs Middle School 7th and 8th Grade Choir (Carrie VanDenburgh), Rockford High School Advanced Women's Ensemble (Mandy Mikita Scott), Grand Valley State University Arts Chorale (Ellen Pool), Michigan State University Young Women's Chorus (Kyle Zeuch), Lake Orion High School Chamber Choir (Bryce Thompson), Central Michigan University Chamber Singers (Nina Nash Robertson), Measure for Measure (Steve Lorenz).  So many individuals worked tirelessly to make the fall conference a success.  It is an honor to work with a dedicated ACDA board in Michigan.
We have had great success in our Sing UP membership drive in Michigan, thanks to the work by Erin Colwitz (Membership Chair) and Kimberly Adams (Student Activities Chair).  We have seen an increase in active membership (14.8%) and student membership (17.4%).  We have a number of active student chapters throughout the state with a lot of exciting work done by our student members.
Also in October, ACDA-MI hosted a Male Choral Festival on the campus of Eastern Michigan University featuring Dr. Eugene Rogers as guest conductor.  Many thanks go to Brandon Johnson (College/University R&R Chair) and Susan Matych Hager (Men's Choir R&R Chair) for their work in organizing this festival.
It is a great time to be a choral musician in the state of Michigan.  Our talented conductors and singers are touching many lives and creating such beautiful music!
Sincerely,
Jared Anderson
President, ACDA-Michigan