Dr. Bradley Bloom was a valued member of the Michigan choral community and a longtime ACDA-Michigan Board Member. We are sorry to hear of his passing.
---
Dr. Bradley Bloom, legendary choral conductor and teacher, passed away June 6, 2016, in Bellingham, Washington. He was surrounded by his family during his final week in hospice after 18 years of living with cancer.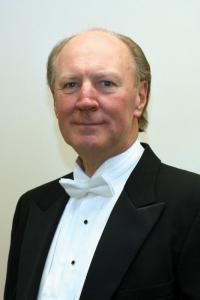 Brad was a beloved professor of music, first for 31 years at Schoolcraft College in Livonia, then as adjunct professor and interim conductor of the Men's Glee Club at University of Michigan. He served as the Associate Dean for the University of Michigan School of Music, Theatre and Dance for 5 years following his long career at Schoolcraft. In his "retirement", he spent a year at Eastern Michigan University as Interim Director of Choral Activities, taught conducting at Oakland University and led a choir at University of Windsor. He was universally loved by his many students.
Professionally, Brad was the conductor of the Ann Arbor Cantata Singers from 1974-1994, and the conductor of the Flint Festival Chorus from 1997-2012. He was honored by the Flint choir with the creation of the Bradley Bloom Chair in Choral Conducting for the Flint Symphony Orchestra. In the summers he served on the faculty at the Aspen Music Festival, Interlochen National Music Camp, and as musical director at the University of Virginia Heritage Theatre.
Through the last year of Brad's life, he and his wife Wendy Bloom travelled to the West Coast twice, visiting family and friends all along the way. He is survived by Wendy, noted singer and voice teacher, his daughters, Amanda Bloom (Peter Rand) and Cassidy Bloom Moye (Christopher Moye), and his first grandson, Jesse Bradley Bloom Moye, as well as brother Tom Bloom and family.
There will be a celebration of Brad's life on Monday, May 1, 2017, at 7 PM at the Mendelssohn Theater in Ann Arbor. Those who would like to sing in an ad hoc choir for the service should arrive at 6:00 for a rehearsal. Memorial gifts can be directed to the Bradley Bloom Memorial Fund at the Community Music School of Ann Arbor, 1289 Jewett Avenue, Ann Arbor MI, 48104. It is the family's wish to honor Brad by supporting the school's mission of fostering creativity and and a joy of music through their innovative programs.